Welcome to Firefighters Credit Union

ATTENTION MEMBERS!!!
UPDATED WEBSITE COMING SOON!!
WATCH FOR DETAILS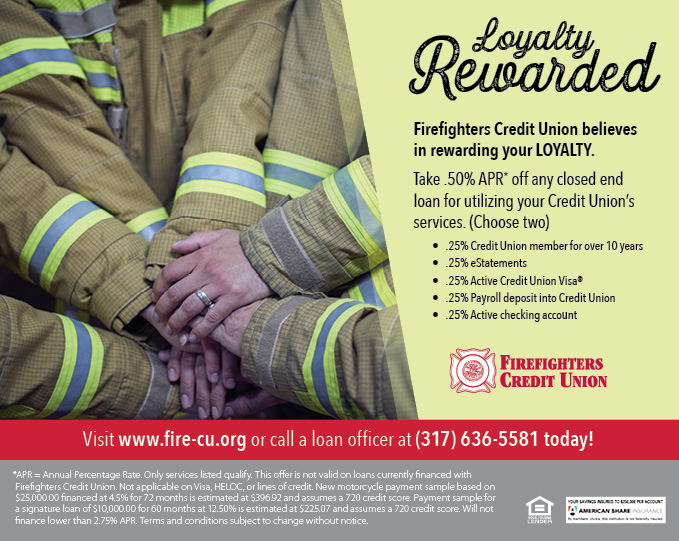 MOBILE BANKING
Using your phone go to the App store and search for Touchbanking. Download and enter your app code: FIRECUMOBILE. You will need to use your firenet user password to log in.
To manage and add other services, log into firenet and click on Mobility which is located under the self-service tab.
Visa
®
Credit & Debit Card Alerts Now Are Available
With near real-time Alerts from Firefighters Credit Union powered by Visa® ,
you can receive updates on your Visa card activitity. And this unique service is
available free for Firefighters Credit Union Visa cardholders.
After your Visa card has been used, you'll receive an alert through text message
or email. If there is fraudulent activity, you can find out within minutes and act
quickly to resolve the situation.
How you use the service is up to you. You can choose to receive alerts when your
Visa card is used for purchases over a specified amount, online transactions, purchases
outside the United States, and more. You can even customize the purchase amount
threshold-for example, setting it to only receive alerts for purchases above $50.00.
Select the delivery options that best meet your needs, with text messages, emails,
or both for extra security and convenience. Each alert contains important information,
including the purchase amount, merchant name and location (if available), and the
last (four) digits on the Visa card used to keep you best informed.
All this free for Firefighters Credit Union Visa cardholders. Sign up for Alerts from
Firefighters Credit Union today at: https://purchasealerts.visa.com/vca-web/login
Disclosure: Actual time to receive Alerts powered by Visa dependent on wireless
service and coverage within area. Alerts service may not be available in all areas.
Gasoline alerts may not include purchase amount. Account activity qualifying for
Alert service may vary by issuer. Additional restrictions apply.
Online Banking

Holidays the Credit Union will be Closed:




Thrusday - November 28, 2019
Friday - November 29, 2019
Tuesday - December 24, 2019 Credit Union Closes at Noon
Wednesday - December 25, 2019
Tuesday - December 31, 2019 Credit Union Closes at Noon
Wednesday - January 1, 2020


FFCU Specials




2019 Calendar Carmel

2019 Calendar IFD

2019 Calendar Noblesville
Contact Us
726 Massachusetts Ave.
Indianapolis, IN 46204
317-636-5581
800-462-1431

Member Service Fax
317-636-8749

Loan Department Fax
317-687-8674
info@fire-cu.org
__________________